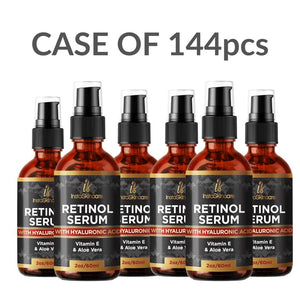 Retinol Serum 2 OZ WHOLESALE 144PCS
$1,58256

$1,582.56

Save $432
---
---
Elevate Your Esthetician & Small Business with Instaskincare's Premium Wholesale Retinol Program
Upgrade your skincare offerings with Instaskincare's high-quality wholesale retinol program, specifically designed for estheticians and local stores. As a trusted partner for skincare professionals across the United States and Canada, Instaskincare provides premium wholesale retinol that delivers exceptional results. Our retinol formula is the perfect addition to your services or resale product line, providing clients with an effective anti-aging solution.
BENEFITS:
By choosing Instaskincare's wholesale retinol program, estheticians and small businesses can offer clients a potent anti-aging product with numerous benefits, including improved skin texture, reduced appearance of fine lines and wrinkles, and increased skin cell turnover. Enhance your reputation as a provider of high-quality skincare products and services by partnering with Instaskincare for your wholesale retinol needs.
QUALITY:
In the competitive skincare industry, quality and reliability are paramount. Instaskincare's wholesale retinol is backed by our unwavering commitment to quality and exceptional customer service, ensuring you receive a high-quality product that both you and your clients can trust.
FAST DELIVERY:
As an esthetician or small business operator, timely delivery is essential to maintaining your inventory and meeting client demand. Instaskincare offers both regular and expedited shipping options from our warehouse, ensuring you can quickly and efficiently stock up on our wholesale retinol. Keep your inventory up-to-date with our prompt delivery services.
Choose Instaskincare as your partner for wholesale retinol and experience the difference for yourself. Our commitment to quality and customer service, combined with the benefits and performance of our retinol formula, will elevate your skincare services and product offerings. Contact us today to discuss your wholesale needs and discover how Instaskincare can help your esthetician or reseller business thrive.