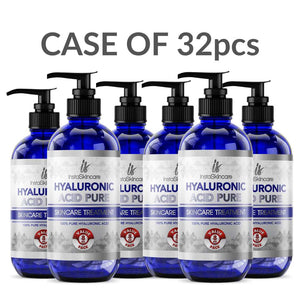 Hyaluronic acid 8oz Wholesale 32pcs
$80000

$800.00

Save $383.99
---
---
Looking for a reliable supplier for bulk hyaluronic acid?
Look no further than Instaskincare - trusted by estheticians across the United States and Canada. Our hyaluronic acid is of the highest quality, with a concentration of a bit over 2%, molecular weight between 800,000 – 1 Million Daltons, and a pH balance of 5.0 - 6.0. This results in a product that's easy to mix and dissolves quickly in water, making it perfect for use in skincare products.
BENEFITS:
Our hyaluronic acid also provides numerous benefits, including intense hydration, improved skin elasticity, and a reduction in the appearance of fine lines and wrinkles.
 QUALITY:
Estheticians and their clients love Instaskincare's hyaluronic acid because it delivers visible results, is easy to work with, and is backed by our commitment to quality and customer service.

FAST DELIVERY 

We guarantee Fast Regular Delivery and OFFER EXPEDITED DELIVERY by request, as we ship our products from our own warehouse

Choose Instaskincare as your go-to supplier and experience the difference for yourself